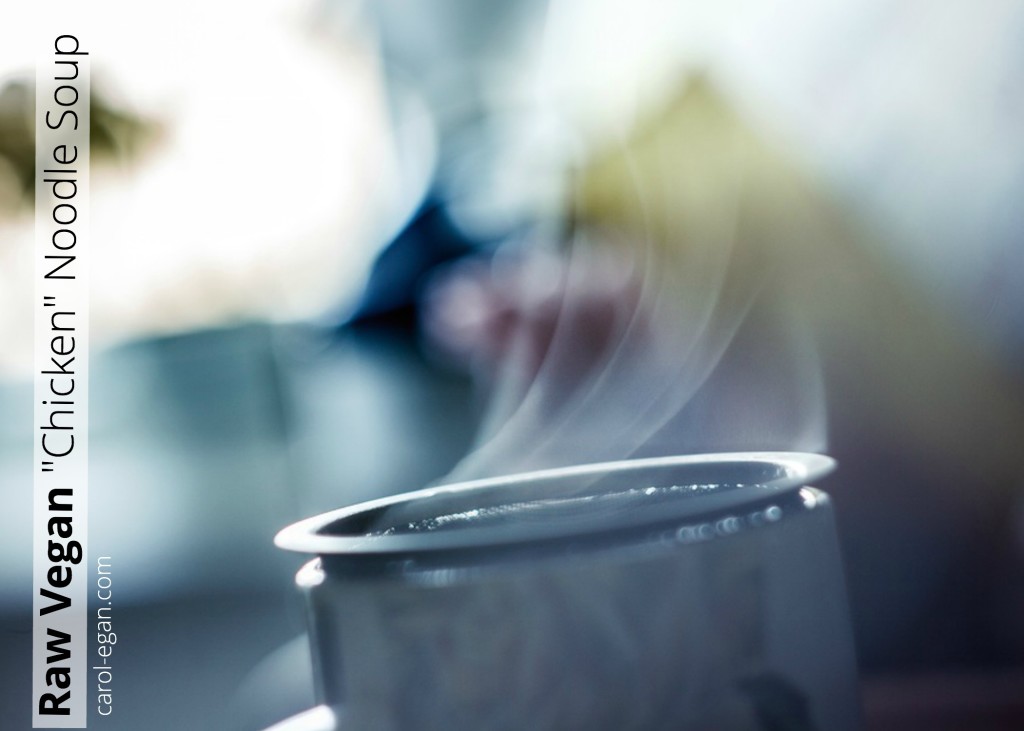 No matter the season, we all enjoy some good old fashioned "Mom's" kind of meals once in a while. But, I personally do not enjoy how I feel if I do indulge in those old time recipes prepared "old school" style. The fun part is, I often giggle when I make a recipe like this "Raw Vegan 'Mock" Chicken Noodle Soup because 1), it tastes SO darn good and 2), it's so darn good for me! I hope you too enjoy it as much as I do! And sure, will it tastes like "Mom's?" Probably not, but I like to say, "it's a close enough second," for how good it tastes and how good I feel after eating it!
Recipe:  
1 cup water plus, to thin soup if preferred
1 cup celery
1 cup cauliflower, chopped
1 yellow squash, chopped
¼ white onion, chopped
2 tablespoons fresh parsely
1 clove garlic, minced
1 tablespoon white miso paste or ¼ teaspoon salt
sea salt and pepper, to taste
1 zucchini, shaved into spirals (optional)
Add to blender with (warm) water, cauliflower, celery, squash, onion, parsley, garlic, and miso paste. Blend and add more water if necessary. You can warm the soup with the heat of your blender the longer you leave it in, but don't make it hot, or you will breakdown the live-enzymes in the vegetables, which defeats the whole goal of making a raw soup!
Add "spiralized" zucchini"noodles"to soup. Finish with salt, pepper and fresh parsley.  Serves 2
You can prepare this soup 2 ways: Creamy or brothy. The less vegetables you add to the blender, the brothier it will be.
Buono Appetito!! 
(Visited 379 times, 1 visits today)