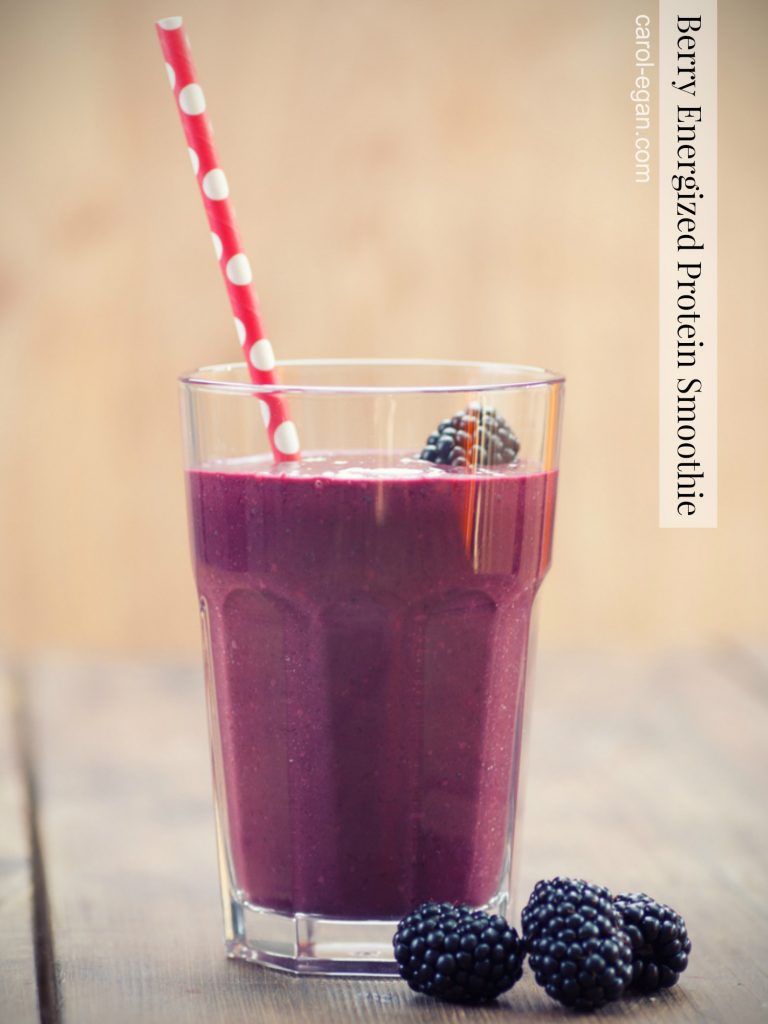 I remember walking up to the "pump house' with my Mom when I was a young girl to pick fresh blackberries. I loved our walks. I loved eating these sweet berries when picking them. I loved that my Mom made homemade jam with them. Those walks and berry picking together are special memories I hold close to heart. But I see first hand how sweet memories and family traditions are keeping many stuck in unhealthy eating patterns every day!
I mean sugar is one of those substances that I just don't even understand how it's legal. It's more addictive than heroine and cocaine, so of course I'm not going to be offering you up my Mom's jam recipe.
Rather, I offer you a super healthy, power packed, energy laden smoothie with a whopping 20 grams of protein! And best part? It's clean.  Clean. Clean. LOOK at the ingredients! See for yourself! This recipe is a total winner, and it tastes delicious too!
(ONE word about this protein-myth — we need clean cells, clean tissues, and a clean body to access our strong, athletic physique! THAT can ONLY happen, if we eat foods that our body can eliminate efficiently! Forget all the processed protein powders promising to do for your body what it already knows how to do! — Find your most vibrant strength and self in your clean-celled body!
Berry Energized Protein Smoothie has NO processed protein powders that stick to the digestive wall — Only clean ingredients that your body will be able to efficiently use AND eliminate = SO very important!
Ingredients:
2 cups almond milk
1 cup raw cauliflower, chopped
2 cups spinach
1 cup blackberries/blueberries
1/2 avocado
1/4 cup pumpkin seeds
2 teaspoons spirulina
1 teaspoon maca
Stevia to taste
Add all ingredients to your high-speed blender and process until fully combined. Add avocado and blend for added creaminess and healthy fat.
Cheers to your great health!
After you make this recipe, let me know how you like it in the comments section below.
Ready to really pick up your get-healthy game? Register for my new 7-Day Eliminate Excuses: Prioritize Your Health Mini Program now! It includes 7 super important strategies I teach my private 1:1 clients!
(Visited 133 times, 1 visits today)