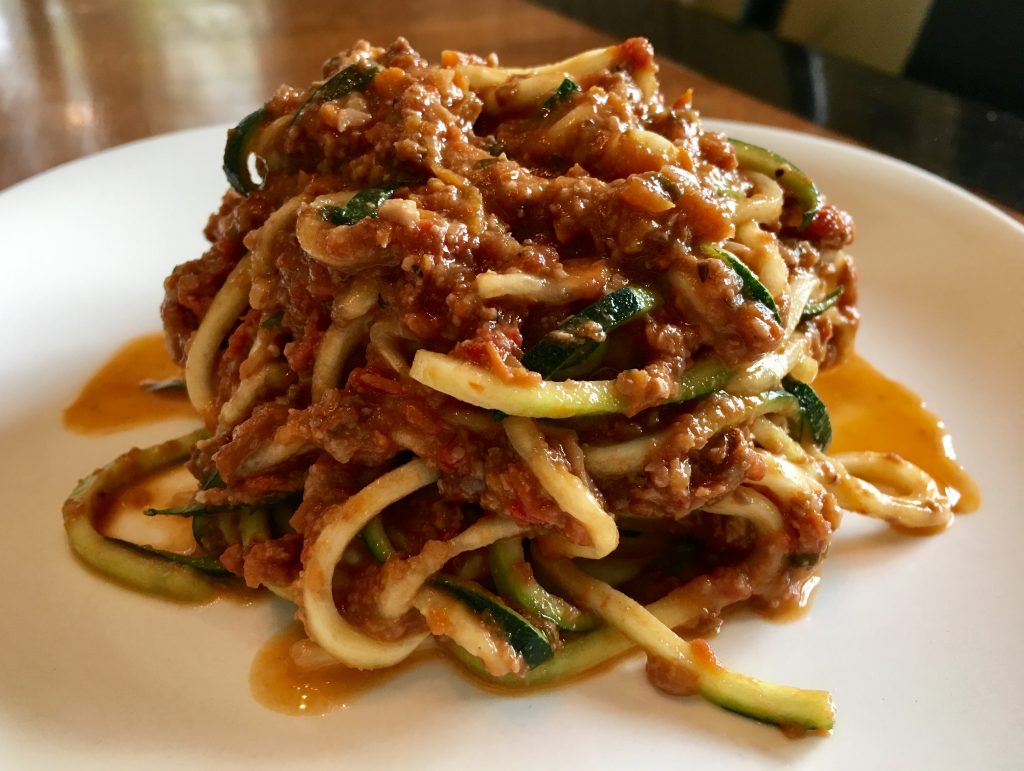 If you're new to following my blog, you might not know that I often say when I make a new recipe, "this might be the best recipe I've ever made!"
Ha! But this time it might very well be true! If this is not the best recipe I've ever made, then it's close to it — my 100% plant-based, part raw, part-cooked, Zucchini Pasta Bolognese. I even added a little fennel seed to infuse flavors of "Italian Sausage," plus some cashew cream to mock the dairy — both are typical ingredients in a classic meat-preparation of the recipe.
One note: this recipe calls for a little more preparation than recipes I usually post, but not much more — just a few different steps, which I've mapped out for you below. You can whip up this recipe even on short notice… and I promise, it's well worth the effort!
Ingredients: 
3 cups of grape tomatoes, processed chunky
1/2 cup sun-dried tomatoes, processed chunky
5 cloves garlic, minced
1/2 small onion, minced
2 carrots, chopped
1 celery stalk, minced
1/2 cup fresh parsley, chopped
1 cup red wine
1/4 teaspoon fennel seed
1 1/2 cups mushrooms, chopped with some texture (fine and chunky)
1/4 cup walnuts chopped to a fine crumble
1/4 cup cashews, soaked (2 hours)
Sea salt, cracked black pepper and crushed red pepper to taste
Extra Virgin Olive Oil
2 zucchini (room temperature), spiralized
In food processor, process each ingredient (except cashews) separately and put to the side.
Process soaked cashews with 1/2 cup of water to make a cashew cream.
Sauté: Extra Virgin Olive Oil, onion, garlic, carrot and celery until translucent. Add mushrooms and walnuts. Sauté for a few minutes and add tomatoes (fresh and sundried) and red wine. Simmer for 45 minutes on low.
Add cashew cream, fresh parsley, salt, black pepper and crushed red pepper to taste. Simmer for another 30-45 minutes.
Toss raw zucchini noodles with hot sauce to soften the noodles. Serve and enjoy… and let me know how you like it in the comments section below! I'd love to hear if you like it!
Buono appetito! 
(Visited 172 times, 1 visits today)