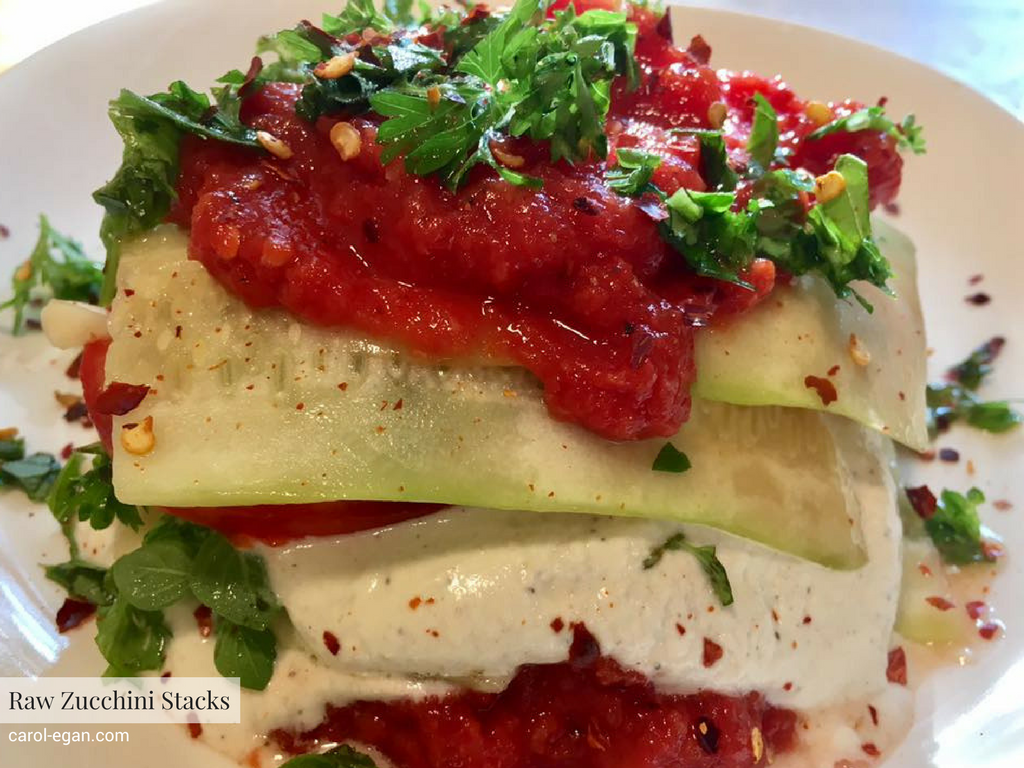 Here is my super-healthy spin on an Italian classic. Is it the same? Well… yes and know. Every flavor you love in classic lasagna is here, garlic and tomato, basil and cheese, and even the texture of fresh ricotta spilling over as you cut it, and the 'meatiness' of biting into pasta… but it's raw, so it's a bit different.
BONUS… this quick and easy recipes is even more quick and easy, because you create individual stacks, with no encrusted pans to wash afterwards!
You can get every ingredient for this recipe, minus the cashews, at your local Farmer's Market, and I recommend you do. Why?
You'll get the freshest possible ingredients, with the most vital nutrients, since it was just picked, plus… you not only support your local farmers, you support local farmlands and farm communities. Buying from your local farmer is a win-win-win, for you, for your farmers, and for your local community!
Ingredients:
3 Zucchini, sliced thinly into sheets
3 tomatoes, sliced
Pesto, or freshly minced herbs, basil, parsley & oregano
The Recipe:
Lasagna Pasta Sheets: 
3 "Good-size" zucchini. Slice them into thin sheets on a mandolin. Place the veggie sheets in a large bowl with a drizzle of Extra-Virgin Olive Oil, a pinch of sea salt and 2 cloves of freshly minced garlic. Set aside and let marinate and soften (30 minutes or all day. Do what works)
After you make each ingredient, the pasta sheets, the cashew cheese, the marinara and the pesto, leave them out for an hours, so they are room-temperature when you assemble your lasagna stacks
Assembly 
On each plate, layer of the marinated zucchini sheets, overlapping them as you would pasta sheets
On top of this, layer the cheese, the tomato sauce, slices of fresh tomato, the pesto or the freshly minced herbs
Repeat 2 or more times, and finish with crushed red pepper and minced fresh herbs
PS — Rather than give you the cheese, pesto and marinara recipes here, I led you on to another recipe where they are, to be sure that you put those recipes on your to-make list too! The Raw Fettuccine Alfredo and Spaghetti and Meatballs are 'to-die-for!'
Buono Appetito!
Do you have an allergy? Let me know what it is, I'm pretty good at substituting things out. I'd love to help you make this in a way that works for you!
I'd LOVE to hear how you like this recipe after you make it! Let me know in the comments below.
Want more healthy and delicious recipes? I've got 10 quick, easy and healthy soup recipes for you in my new guide, Soupify! You can download it for FREE here. 
(Visited 52 times, 1 visits today)