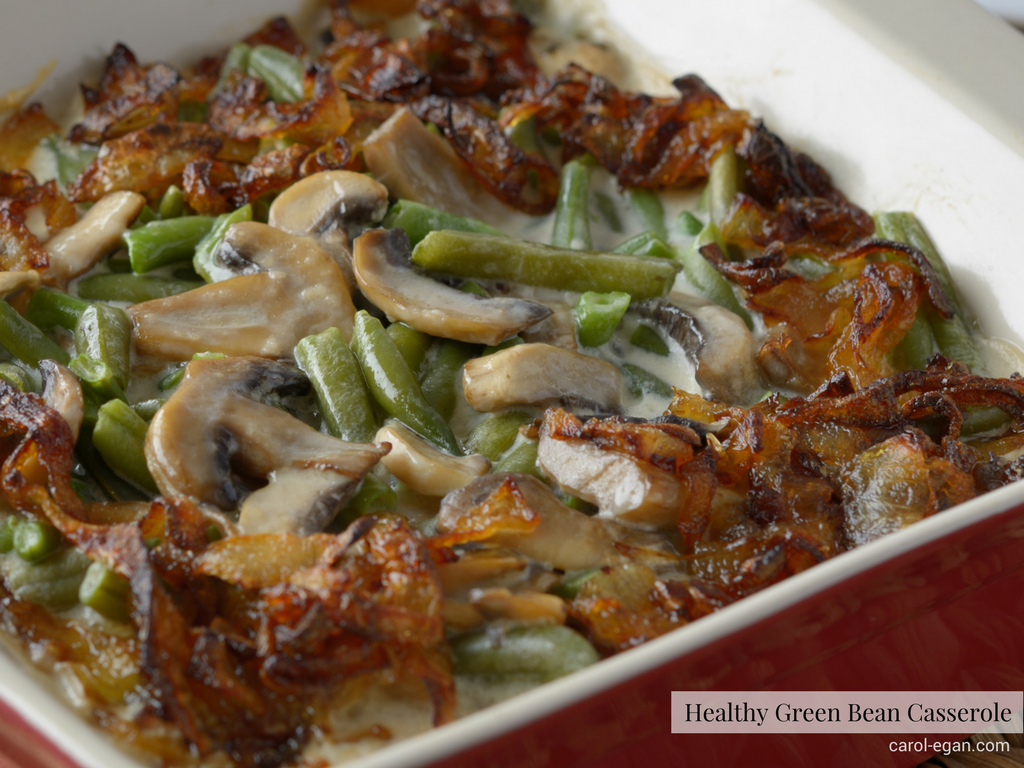 If you've followed me for a while, you know I love to spin healthy recipes from classic, , unhealthy favorites! With the holidays's approaching, I couldn't resist creating an uber healthy and delicious spin on "Green Bean Casserole."
Whole foods. Nothing processed. Vegan. Paleo. Nut-free. Clean. Fresh and delicious. This is a total crowd-pleaser!
Indeed, everyone around your holiday table this year will be saying, "OMG, WHO made the Green Bean Casserole this year? This recipe is to-die-for!"
Healthy Green Bean Casserole is super delicious, super healthy and with every flavor that you're used to tasting in this classic holiday dish, sans the processed, nutrient-devoid and inflammatory ingredients of the of days gone by recipe!
Ingredients: 
1 – 1/2 pounds green beans, clipped and cleaned
1 pound parsnips, diced
1 pound mushrooms, sliced
1 Vidalia onion, sliced thin
1 1/2 small onion, diced and sautéed
1 clove garlic, minced and sautéed
1 Tablespoon coconut oil
Water
Sea salt and cracked black pepper
Crispy Caramelized Onions:
1 large Vidalia onion, sliced thin
Sauté slowly over medium low heat until caramelized and crispy, a tablespoon of coconut oil, sliced Vidalia onion, sea salt and cracked black pepper. Set aside.
Sautéed Onion & Garlic:
1/2 small onion
garlic
Saute until clear and translucent over medium-low heat
Mushrooms:
Saute until tender, mushrooms, sea salt and cracked black pepper. Set Aside.
Parsnips:
Steam al dente — firm but slightly tender
Green Beans:
Steam lightly to a firm texture
Sauce:
In a Vitamix or high-speed blender, puree parsnips, 1/4 of sautéed mushrooms, sautéed 1/2 small onion and garlic, sea salt and cracked black pepper. Add water slowly to achieve a smooth, creamy texture.
Combine & Cook: 
In a large bowl, toss green beans, remaining mushrooms and sauce until well combined. Pour into a glass baking dish and bake at 375° until browning and bubbly. Top with caramelized onions and serve!
Buono Appetito!
(Visited 119 times, 1 visits today)