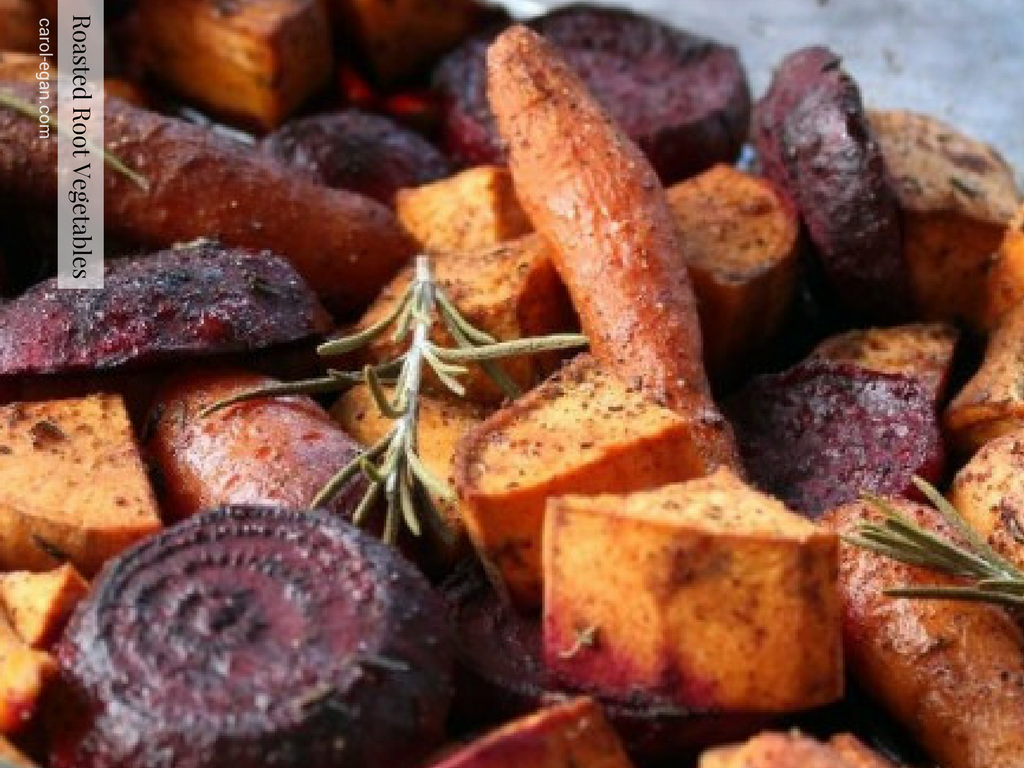 For a gorgeous blend of seasonal color and flavor, this hearty roasted root vegetable side dish is sure to be a healthy star at your seasonal celebrations!
Ingredients: 
3 medium red beets, washed and sliced thickly in 1 inch rounds
3 medium sweet potatoes or yams, washed and sliced thickly in 1 inch rounds
3 carrots, washed and cut in 3 inch pieces
3 parsnips, washed and cut in 3 inch pieces
1 -2 sweet onion, sliced thickly
1 head of garlic, peeled and separated cloves
Fine sea salt to taste
Cracked black pepper to taste
1 teaspoon minced fresh rosemary
2 Tablespoons coconut oil
*  If you want to spin this recipe to be sweeter and still healthy, as an alternative to the overly-sweet version of holiday sweet potatoes, toss the cut vegetables in a stevia infused olive oil, before you place them in the baking dish. Drizzle the remaining sweetened oil over top, per the directions below.
Assemble:
Preheat oven to 375.
Cover the bottom of a large glass baking dish with coconut oil. Place red beet slices and sweet potato slices flat in the baking dish. Add carrots and parsnips. Cover with onion slices and whole garlic cloves. Sprinkle with sea salt, cracked black pepper and fresh rosemary. Roast for about 1 hour, or until tender.
Arrange all roasted vegetables on a serving platter. Serve and enjoy!
Buono Appetito! 
(Visited 78 times, 1 visits today)