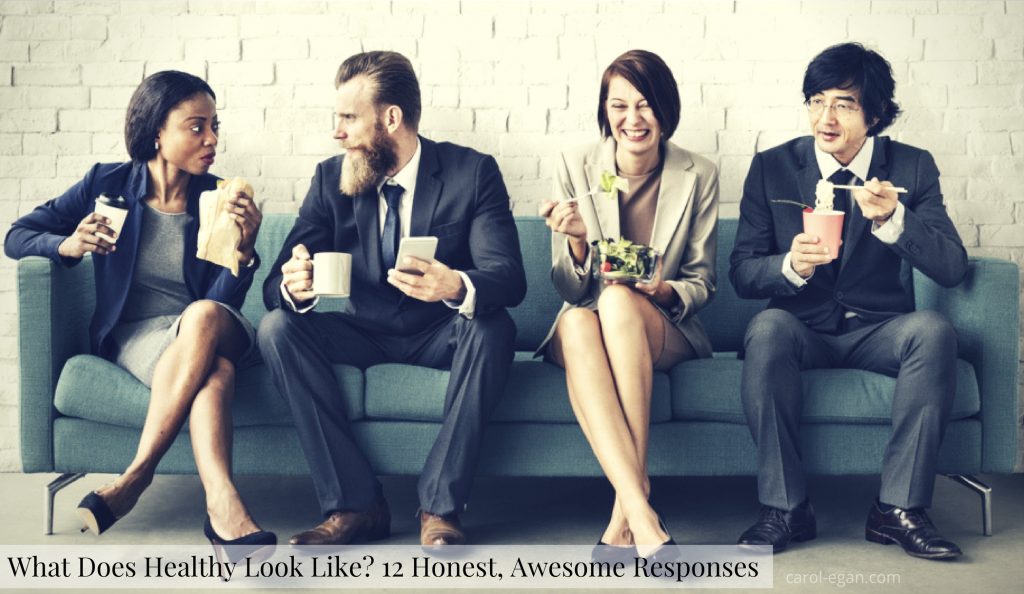 Someone once said to me, "You're a self-actualizing machine." But the context was, "You can do this get healthy thing, I can't," but she suffered with acute health problems and really wanted to look and feel better.
I heard the defeat in her voice and said, "I was once very sick. I had no idea at all of what it even meant to do things differently. What was healthy? What wasn't healthy? I didn't know where to begin. I didn't know what to do. No one in my family, none of my friends, heck, it seemed like no one I even knew in passing had a concept of healthy lifestyle habits like I needed to make to feel better, so I started with one small step at a time."
I tell this story all the time now, because everyone I work with struggles with the first steps of their get-healthy game, like I did, like you might too.
Just this week, as I wrapped up a wellness program I've been leading, one of the participants said, "I was so overwhelmed by everything you said on our first day." But she opened up to the challenges I offered and lost 10 pounds, reduced her all-day coffee habit down to one cup in the morning, and… She even started making smoothies, including leafy greens and cucumbers, though she was opposed to the idea at first, "I'm not drinking my vegetables!"
This is just one of the participant's stories from the program, but one example that best exemplifies one of my guiding credos, "Lean into it." Do what you can. Don't make yourself wrong if you falter. Just get back in the game when and how you can! When there's no pressure, it's just easier.
It's like what Darren Hardy, editor of Success Magazine and author of The Compound says in this book:
"Small smart choices + Consistency + Time = RADICAL DIFFERENCE."
I offer you here what getting healthy really looks like "on the street."
It's not perfect.
It's not 100%.
And it's definitely not a "self-actualized machine overnight." But honestly, I couldn't be more happy for every participant's wins! They threw their ball on the court. They got in the get-healthy game and they played. No matter if they dropped the ball, they still played and that's winning for me, because every step forward always leads to the next steps forward!
"I feel lighter and happier."
"What I eat now, how I plan my grocery shopping, what I prepare for my meals is better. I'm more conscious of healthy choices now."
"I used to drink coffee all day long. Now I only drink one cup in the morning."
"I don't like smoothies. I've not figured out how to make the time for them yet, but I like the juices. I can buy them."
"I wan't perfect. I did eat a little junk, but I made a smoothie and a salad every single day. That was different for me."
"I added more whole foods to my diet everyday – I ate way less junk. I am definitely more aware of what I am eating now."
"I lost 10 pounds."
"My doctor said I lost weight and my high-blood pressure is way down."
"No, I didn't do the evening exercise, but I did do the morning one."
"Someone offered me a cup of coffee during the day, said the challenge is over. I said no. This is a new lifestyle habit now."
"I really like the breathing exercises."
And the best response of all, because I know this participants meant it, "I bombed, but I'm inspired to try again." She said this, though she made a smoothie everyday. She felt she bombed, she felt defeated, because in the end she wished she did more. BUT she did create one new healthy habit, a smoothie everyday.
One of the best parts about the whole experience and their responses? I got to meet all sorts of different people, from all sorts of different experiences, and… I got to appreciate again, what it's like to watch people rise to a challenge! SO awesome! What I see over and over again is, we always want to be our best selves. Even when we are so busy, even when we think it can't be done, that it's impossible, we always figure it out, we always find a way = super cool! It turns out, "the self-actualized machine" is actually only a series of steps we take in the direction of our goal. 
When I lead workshops, I'm reminded about what's most important in life from every person I meet.
As I learned from one of my mentors, "Great is the need of the student to learn — far greater is the need of the teacher to teach." As a student of life, I'm honored by every lesson I learn when I teach.
Now you're turn.
What does getting healthy really look like for you?
What do you bump up against? What pulls you forward? What stops you?
Post your comments below. I'd love to hear, and help if need be!