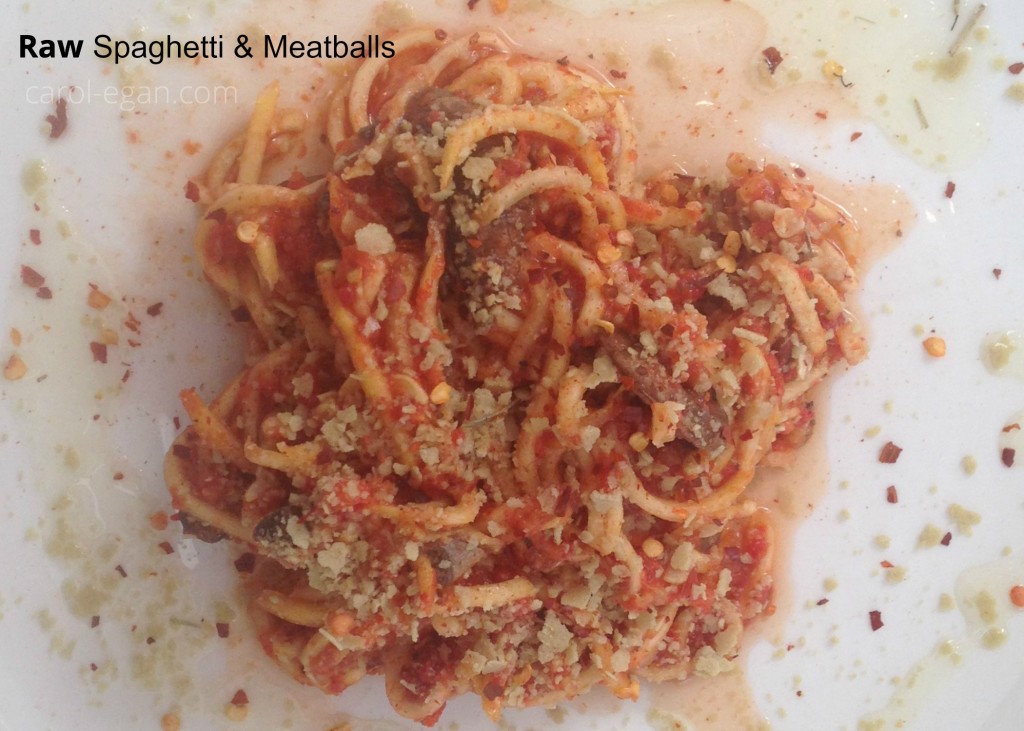 This recipe is "bangin'!" I promise!
I am accused of saying "this is the best recipe I've ever made!" Ha! 'Tis true! But this really is the best raw marinara I've ever made and … I truly do believe that raw food chefs have it all going on artistically! I've learned so much from so many. After a lifetime spent in and out of the hospitality industry, I can confidently say I know good food. I know how to combine ingredients, and I know what is slip shot and what is the real deal. Do yourself a favor and keep your eye on raw food chefs like Susan Powers and Matthew Kenney, they are brilliant culinary artists!
I decided I needed to indulge in some "cooking therapy," and that this is so good, why would I not share it with you?  And honestly … (SMILE), this IS one of the best raw recipes I've ever made. Why? Because I've worked at refining my raw marinara for a long time. Whelp, the wait was worth it! This recipe is every bit as good as the cooked marinara's I used to make, but so much healthier and fresh! This is yet another one of those compelling recipes to pull you over to my plant-based world – I promise!
Raw Spaghetti and "Meatballs"
Meatballs – Ha! Yes, I do use that word very loosely.
8 medium to large crimini mushrooms, quartered
1/4 Extra Virgin Olive Oil
1/2 Lemon, juice
4 cloves garlic, minced
Toss mushrooms with EVOO, lemon juice and minced garlic. Marinate over night.
Marinara
1 1/2 cups sundried tomatoes (choose organic, with a bright red fresh color)
1 cup warm water (or enough to cover sundried tomatoes)
1 large ripe tomato, chopped
2 small cloves garlic
1 teaspoon fresh basil, or to taste
crushed red pepper (optional)
Himalayan Pink Salt and crushed black pepper to taste
Soak tomatoes until soft. Reserve soaking water
Add all ingredients to your high-speed blender and process until smooth.
Spaghetti Noodles
3 Yellow Squash, Spiralized with the Paderno Spiral Vegetable Slicer
If you have a dehydrator, I recommend placing each ingredient in to gently warm. If not, prep your ingredients in the morning and leave them covered on the counter to maintain room temperature. But honestly, I've even it this cold out of the fridge and it is SO good.
Garnish with a drizzle of rosemary infused olive oil, crushed red pepper and raw parmigiana. Alternatives are finely crushed pignoli nuts, nutritional yeast, or a combination of both together.
PS – Seriously, tell me that doesn't look like "real" pasta! Oy! SO good! Really.
Buono Appetito! Prometto eccellente delizioso! Amore from your pseudo Italian-Irish friend!
(Visited 107 times, 1 visits today)