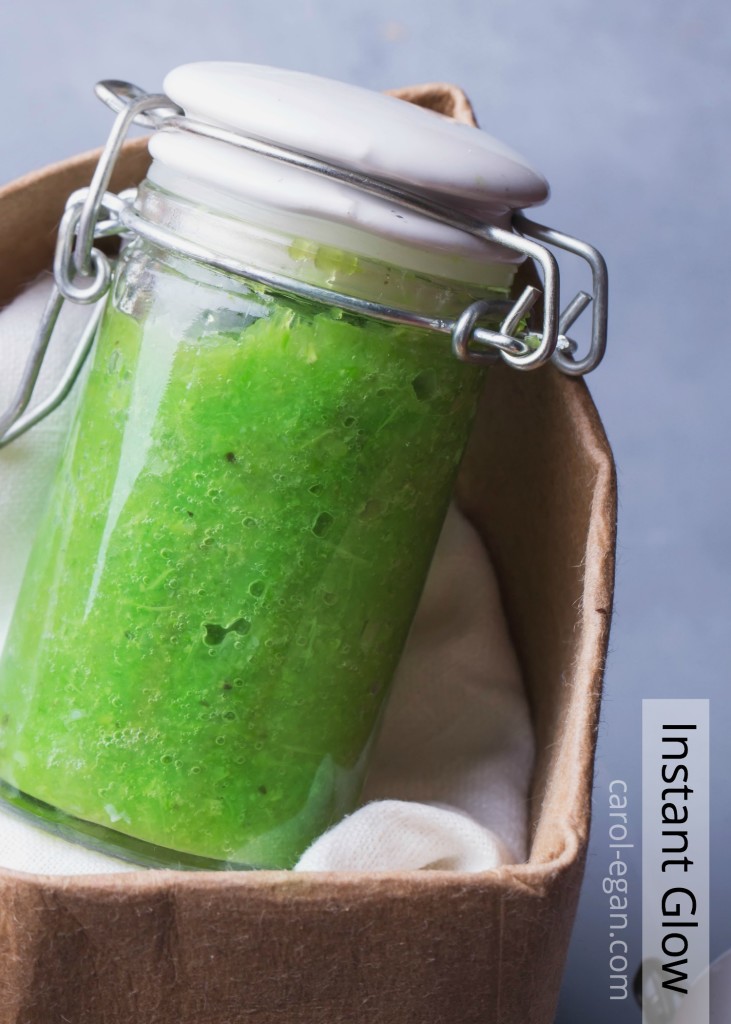 Did you join the smoothie revolution yet? Everyone is smoothie-ing these days because they are so healthy and so fun, and the possibilities for pure-clean-decadence are endless!
Think your best fast-food option.
Think rejuvenating.
Think glowing from the inside out … with every single ingredient only the very best live, vital nutrition!
Coolest thing? You will not just look alive and glowing, you will feel alive and energized too! 
Try my "Instant Glow Green Smoothie," it's but one of the many delicious recipe's in the recipe guide, GLOW, from my signature program 10-Years Younger in 6-Weeks. This smoothie is loaded with ingredients to bring your cells to life, so you radiate pure heath from the inside out!
This recipe makes about 64 ounces — a full Vitamix pitcher!
Ingredients:
1 heart of romaine
3 cups spinach
1 cucumber
4 stalks celery
small handful cilantro
1 green apple
1, 12-ounce bag strawberries
1 avocado
2 cups water
5 drops stevia, or to taste (optional)
Instructions: Blend all ingredients, except avocado, together in a high powered blender. When well combined, add the avocado and serve.
Cheers! 
5 Best GLOWING Reasons All in One Glass:
SPINACH is loaded with Vitamin C = cell regeneration, and Phytonutrients =  anti-aging antioxidants, is anti-inflammatory, loaded with Vitamin K, and with other dark leafy greens known to offer pound for pound, more nutrition than any other food.
CILANTRO is known as a heavy metal detoxifier or "chelation agent" because it removes heavy metals from the body, which are byproducts of the modern lifestyle. Cilantro also stimulates digestion and promotes healthy liver function to promote clearer, brighter skin.
CELERY is loaded with minerals, phytonutrients and antioxidants
STRAWBERRIES, with all berries, rank in the top 25 anti-aging foods for the antioxidants they offer known as flavonoids, which help protect the body against damage caused by free radicals.
AVOCADO offers all B-Vitamins and Vitamin E to promote healthy skin and defend against premature aging.
---
If you try  this recipe, I'd love to hear what you think about it in the comments section below. And … if you want a whole guide full of new smoothies recipes, grab my, "9-Glow Boosting Smoothies to Hydrate, Brighten and Bring the Glow Back to Your Skin" here.