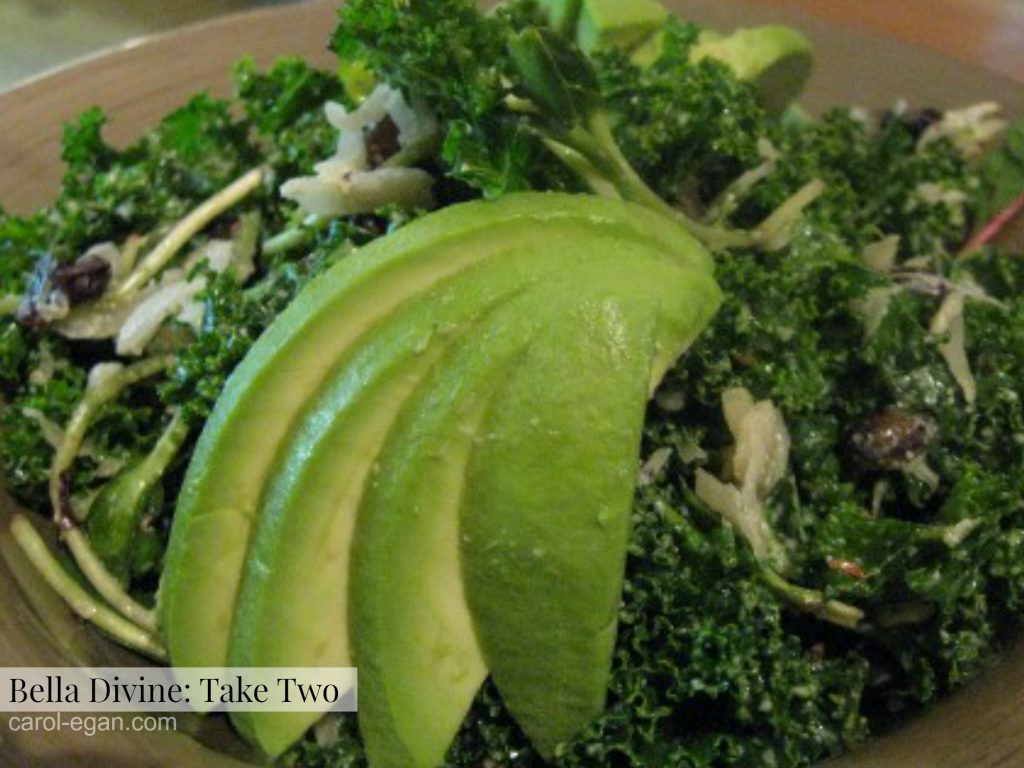 You must go to Sun in Bloom in Brooklyn,  NY. You'll have one the best salads you'll ever have in your life! It's called the Bella Divine Salad and highly recommend you go there and order it, if you're in 100 mile radius of the restaurant! Everything they offer is delicious, but this is my favorite! I order it every time I go!
But… until you can get there, I offer you my take on this "best salad" recipe!
I always do this — I go home after eating something I love when out, and try to recreate the flavors of the recipe myself.
Are my ingredients exact? No. I intentionally created my recipe a little bit differently, with flavors I thought would enhance the original, but also to not infringe on the original preparation. Of course, there's know way I could know exactly what the restaurants original preparation is anyway!
But as I like, my take is a "close enough second" and… it's super delicious and super healthy too!
Serves Two
Salad Ingredients
1 bunch curly kale, destemmed, and ripped into bite-sized pieces
1/2 cup raw fermented sauerkraut
Dulse, 1 sheets cut into thin strips (or to taste)
1 Avocado, sliced
Hot pepper, chopped coarsely
1 cup kalamata olives, chopped coarsely
Optional: Thinly shaved carrot (use a vegetable peeler), Vidalia onion, shaved thinly, and/or radicchio, sliced thinly
Dressing
1/2 cup sesame seeds
1 lemon, juice
1 garlic clove, (small), minced
1-2 inch knob of ginger
Coconut aminos to taste
Stevia (optional)
Water, to create thick creamy texture
Blend all ingredients until thick and smooth.
Massage kale with dressing until the leaves soften. Add sauerkraut, dulse, hot pepper and kalamata olives (plus other add-ons from the optional suggestions). Combine well. Plate salad. Top with avocado. Serve… and Enjoy!
Let me know in the comments section below how you like this recipe! I'd love to hear!
Buono Appetito! 
(Visited 79 times, 1 visits today)