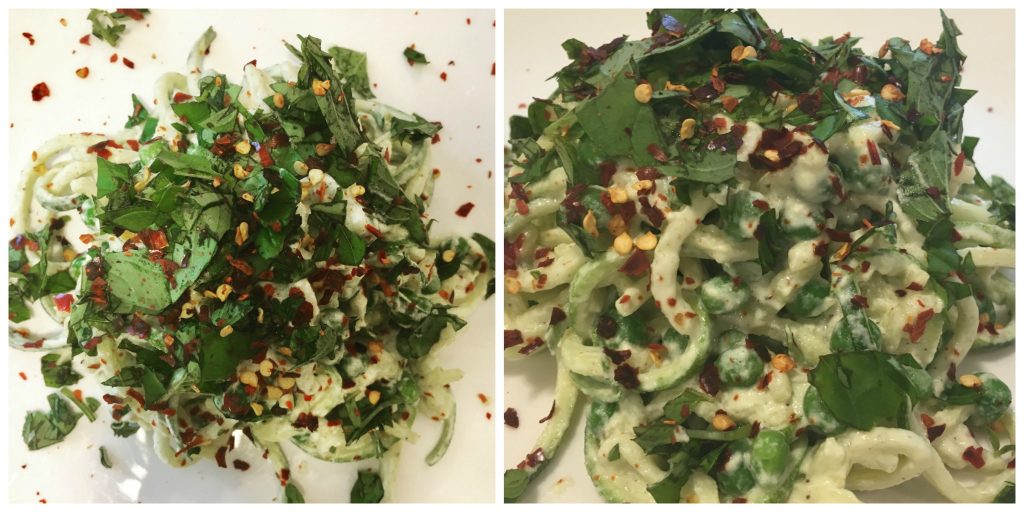 Raw Fettuccine Alfredo
I love to create uber-healthy spins on classic recipes, especially classic recipes I used to love! Fettuccine Alfredo was one of my favorites, but as I leaned more and more towards healthier options, the classic version left me feeling bloated, lethargic and imbalanced.
I've added an even extra-special spin to the Raw Fettuccine Alfredo recipe I offer you here — it's lower in fat than many 'raw food' versions, which means it won't bog you down! The secret is zucchini in the sauce too! Nuts are heavy and hard to digest, but add a creamy texture, so I've included a little, but only just enough!
You're likely going to giggle, like I do when I taste it, like my friends do when they taste it! It's an awesome, low-fat, super-healthy and super-delicious spin on a popular classic! Really!
Ingredients
1/2 cup cashews, soaked overnight
1 small zucchini, chopped (for sauce)
3 small zucchini, spiralized, or peeled into thin fettuccine noodles with vegetable peeler
1/2 cup green peas
1 clove garlic, small – medium size, chopped
1 lemon, juice
Sea salt, cracked black pepper, to taste
Fresh basil, chiffonade
Fresh oregano, minced
Crushed red pepper, to taste
Prepare
Noodles: Spiralize zucchini and set aside
Sauce: In a high-speed blender, process cashews, small zucchini, garlic, lemon juice, salt and cracked pepper
Combine: In a large bowl, with your hands, massage the noodles and peas with the sauce
Plate: And garnish with fresh basil, oregano and crushed red pepper
Buono Appetito! 
Your turn:
Tell me how you like this recipe in the comments below. I'd LOVE to hear!
(Visited 78 times, 1 visits today)