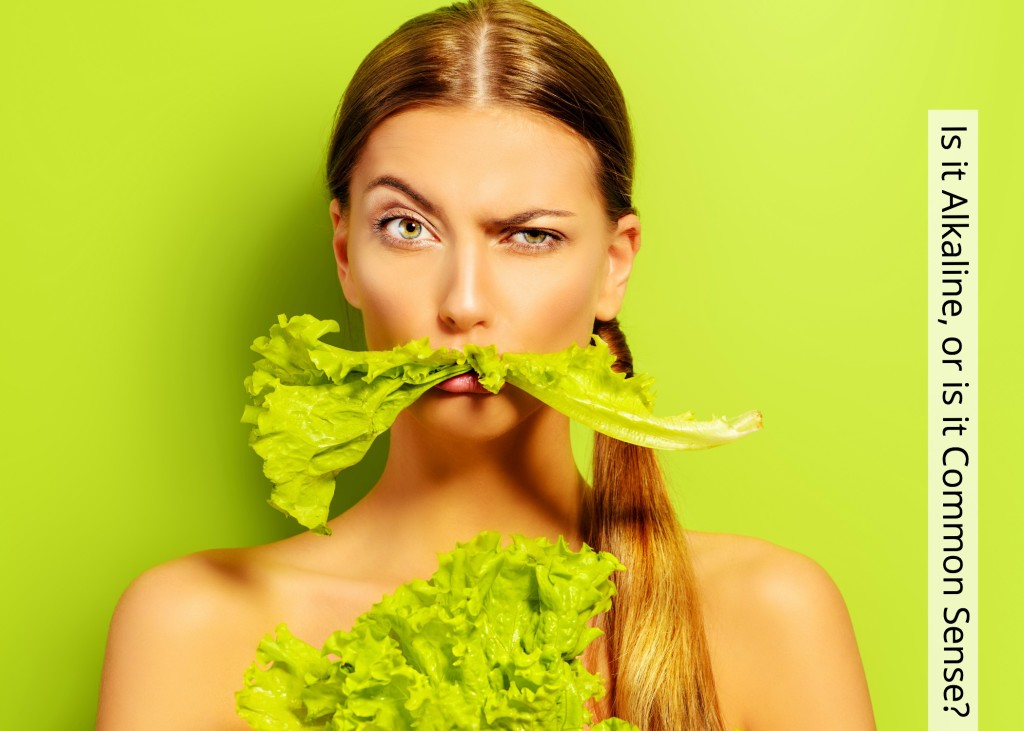 Is it alkaline, or is it good ol' common sense?
There's a buzz growing about the alkaline diet these days.
Victoria Beckham popularized the the alkaline diet in 2013 on Twitter.
At this year's Golden Globes, Kate Hudson attributed her 'abs of steel' to the alkaline diet.
Actor Gwyneth Paltrow, model Elle McPherson and talk-show personality Kelly Ripa are all showing up in news feeds singing the benefits of the alkaline diet.
Tony Robbins promotes the alkaline diet at his Unleash the Power Within event, and Dr. Robert Young wrote about the benefits of the alkaline Diet in his book, "The pH Miracle."
So what's up with this Alkaline Diet?
The alkaline diet says to maintain ideal health, you must maintain a healthy body pH of 7.35 – 7.45.
You do this by hydrating, exercising and eating a diet of 80% alkaline foods, such as fresh, raw vegetables and low-glycemic fruits; while limiting acid-forming foods to 20%, such as processed foods, gluten, sugar, meat and dairy, and beverages like caffeine and alcohol.
Because your body is 80% alkaline and 20% acidic, your diet should match these same ratios to maintain optimal health.
But in the grand scheme of life, why does this really matter? Why does Tony Robbins and other celebrities subscribe to this diet?
The belief is, an acidic diet demands your body work harder to normalize it's pH and this demand stresses your body to continually pursue homeostasis.
And look no further than the rhythm and patterns of the modern lifestyle for this stress. Cravings, excess weight, poor sleep patterns, poor quality of life, chronic symptoms and chronic disease and even hormonal imbalance all find root in the modern lifestyle.
An acidic diet and lifestyle causes your body to work overtime to buffer the increase of acid in the body and rebalance the pH. Your body then seeks out the essential minerals it needs to buffer the increase of acid and pulls calcium from your bones and magnesium from your muscles. This causes mineral depletion, inflammation and the whole host of problems caused by low mineral reserves.
To boot, excess acid wreaks havoc on your kidneys and floods your body with stress hormones causing adrenal fatigue.
I love the popularity of the alkaline diet, but for me, it's 'the pure and simple common sense diet.' 
The alkaline diet recommends that you simply include fresh, live fruits and vegetables as  70-80% of your diet everyday. Why? Live vegetables and fruits are high in the nutrition our bodies need to function optimally, but especially the minerals needed to counter the acidic, modern lifestyle.
Leafy greens are very high in minerals.
I recommend the same diet to all my clients, and the results are nothing short of astounding. When my clients increase their live-food intake, and decrease acidic and inflammatory foods, I've seen them achieve wildly successful results, like going off anti-depression medications, reduce insulin from 40 units 2x per day to 6 units 2x per day, put autoimmune conditions in remission, go off high-blood pressure medications, heal digestive disorders, improve sleep patterns, reduce stress … plus the favored results of losing weight and glowing skin!
The alkaline diet simply suggests eating a healthy balance between alkalizing foods and acidifying foods to promote vitality and health. Sounds like good ol' common sense to me! 
Fortunately, with rates of chronic disease skyrocketing, I am thrilled to see more people getting in the nutrient-dense-food-game, and talking about it publicly!
But surely 'eating healthy' has got to mean something more than simply eating healthy. Eating healthy is really more about what becomes possible from reducing chronic cravings, or after going off anti-depression medications to live a chronic-symptom-free-life that once defined who you thought you were.
To sound redundant, because it surely is worth repeating, foods from the earth are a whole lot healthier and make a whole lotta' more sense to fuel the body than processed, nutrient-devoid foods from boxes. 
---
Are you curious about what the Alkaline diet could do for you, and would love support in implementing this change?
I now have one rare spot in my Inner Circle Best Health Project Program. Let's explore whether that spot might be right for you. Email me at carol@carol-egan.com.