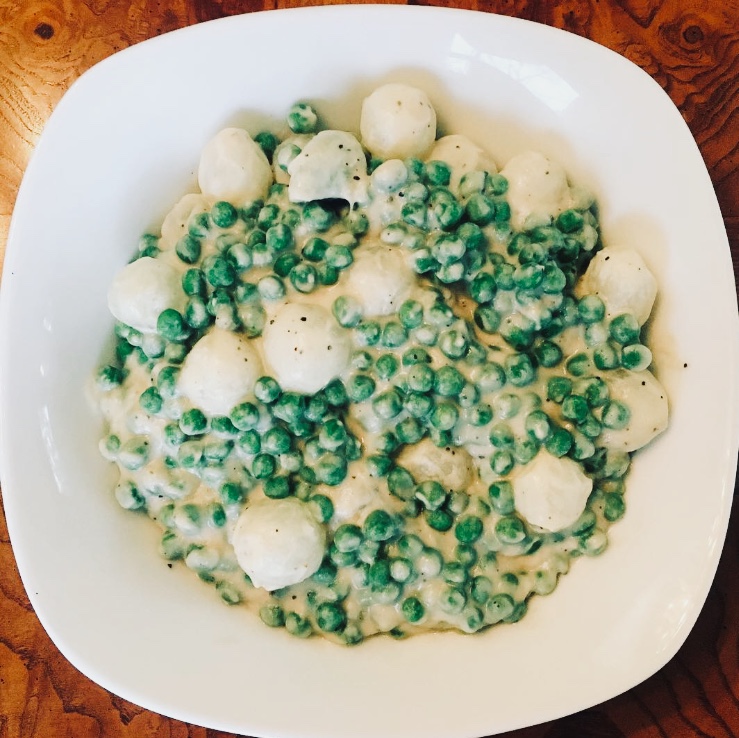 My Dad LOVED Creamed Peas and Pearl Onions, so I made this recipe in his honor, for YOU! He would have LOVED this recipe, because every ingredient is so clean, fresh and… plus the recipe is gluten-free, dairy-free, paleo-friendly AND super delicious. When you look over the ingredients, you'll feel confident that everyone will love the fresh spin of this holiday classic… It's a total crowd-pleaser, because even those with food sensitives can indulge — Booyah!
Yes, I always recommend organic as your first choice for all ingredients, when available.
Ingredients: 
2 cups of fresh or frozen peas
10 ounce bag of fresh pearl onions
1 parsnip, chopped in food processor
1/2 small onion, diced
1 cup almond milk
Sea salt and cracked black pepper to taste
Sauce: 
Saute onion and parsnip until cooked and tender. Add to Vitamin or high-speed blender with almond milk, sea salt and cracked black pepper. Puree until well-combined and creamy.
Pearl Onions: Immerse in boiling water for 2-3 minutes. Remove. Let cool. Cut the root end and pinch out of onion skin.
In saute pan: Add peas, onions and sauce and simmer on a low heat until vegetables and flavors come together. Season with salt and pepper to taste.
Buono Appetito! Happy Holidays!
If you make this recipe, I'd love to hear how you liked it in the comments below!