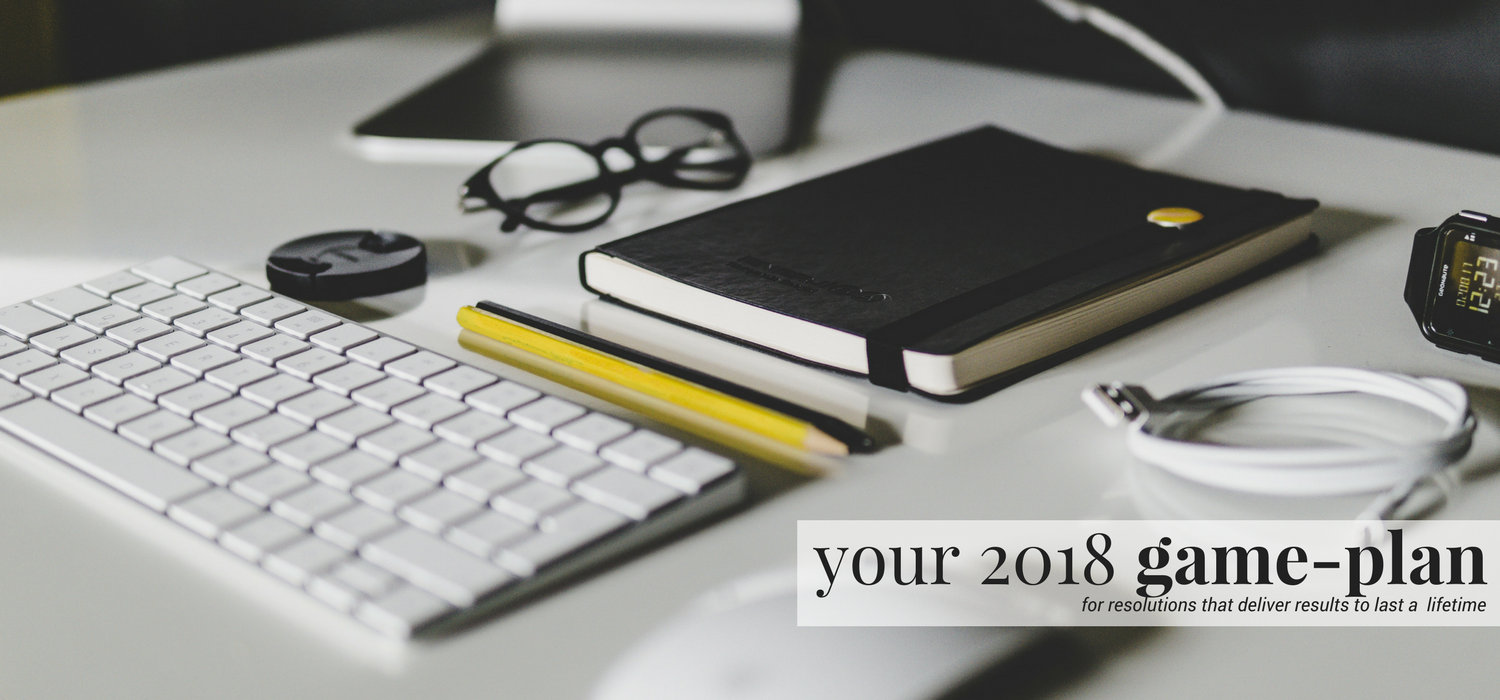 I've spent the last few days helping my one-to-one clients draft their 2018 Game Plan so they can make their upcoming year the best yet…
And be one of the 8% of people who DO stick to their New Year's Resolutions.
If you're ready to make 2018 your best year yet too, I'd like to share with you 3 simple steps you can do yourself, to create your own winning Game Plan!
Step #1 – Find Your Keystone Habit
To kick off 2018, chose what resonates with you as the smartest healthy habit for YOU to begin in January, per your greater life goals.
In other words, what is one habit you know is holding you back, and needs to go first!
This ONE SPECIFIC thing is known as your keystone habit. A keystone habit has the power to transform your life — keystone habits correlate with other good habits, like regular exercise, healthy food choices, intermittent fasting… habits that go hand-in-hand synergistically together to build on January's healthy habit all year long, one month at a time.
According to Charles Duhigg, author of The Power of Habit, a Keystone Habit is a small, seemingly benign habit, that inspires a whole host of positive outcomes. In this case, it's the ONE healthy habit you can do, that would set off a whole chain-reaction of other healthy habits… because you'd now WANT to do them!
I highly recommend starting with The Math Equation, of adding in more greens and taking out the 5 common toxic trigger foods (gluten, dairy, sugar, caffeine and alcohol).
You can also follow my Mini Detox program to walk you through this!
Or you can also choose to add my free Eliminate Excuses email course to the Mini Detox, to help you create some real traction on your own!
Step #2 – Add In A New Habit Every Month
To be successful in 2018, you want to focus on ONE new healthy habit each month. Yes, Think BIG, but focus on ONE SPECIFIC thing at a time — this is the winning formula when we set out on our own to create habits that last.
If you've not mastered the previous month's habit, stick with ONLY it until you feel like you've created mastery, even if this takes you all year long. THIS IS where oh-so-many lose out in achieving their resolutions — they take on too much at once, and then feel defeated when they feel overwhelmed by too much change! 
But, once you've mastered your ONE Keystone Habit in January, it's time to add in another one each month… as long as you stuck with your monthly goal.
If you're looking for some additional healthy habits to add to your yearly goals, here's some I recommend (and links to read more about them).
Step 3: Check In With Yourself
Whether you want to make your this a quarterly activity, or just check in after the first 6 months of the year, take a moment to slow down. Take time to assess where you started the year and where you're at now with your goals.
To assess where you're at now, ask yourself:
What's working?
What's not working? If something is not working, what did I make it mean? What are my thoughts about what's not working? Could my thoughts and what I'm making 'it' mean be stopping me? Could it be my thoughts and the story I tell yourself be the problem, and not the thing itself?
What helped me stay on course?
What stopped me?
Take the time to ask, answer and write down your responses in your journal, so you can track not only what worked and what didn't work, but the stories you tell yourself about the successes you've achieved or the breakdowns you've experienced along the way. These answers are solid-gold, they'll give you insights that can get you back in the game!
And with that – you've got your 2018 Game Plan!
Cheers to you making this New Year the one where you start looking and feeling your very best!
IF you know you're ready to put your health and wellbeing on your calendar in 2018, and want 1:1 support, let's talk. You can schedule a call here. I currently have TWO spots open for new clients and would love to support you, if we're a right fit!