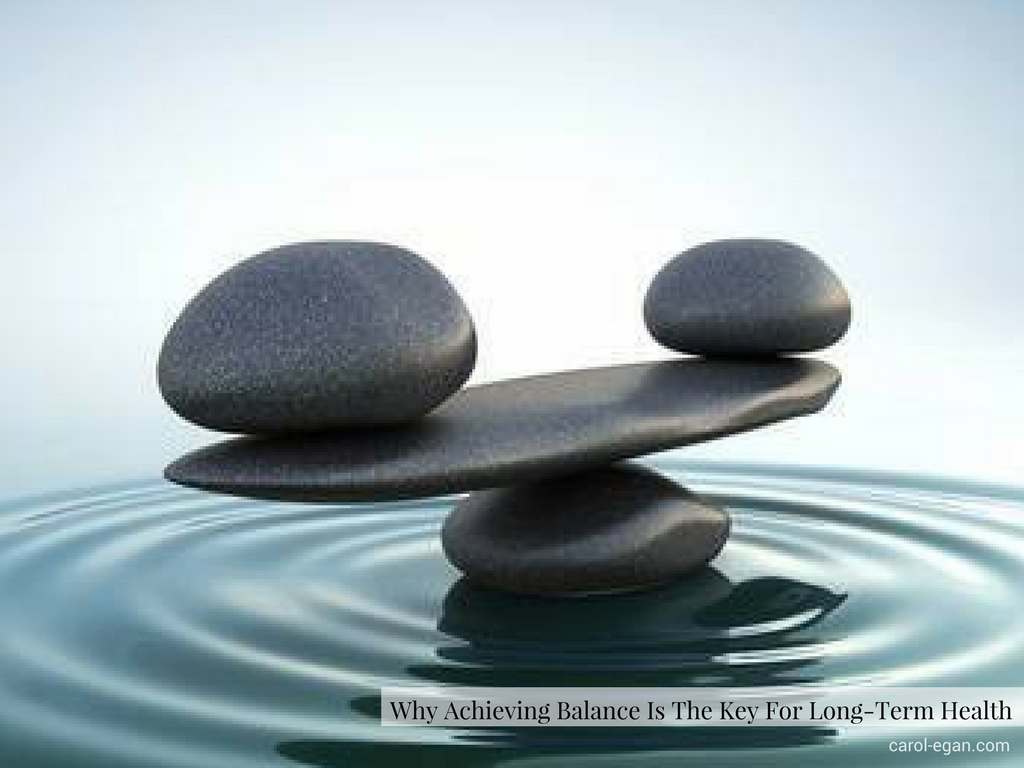 If your goals include losing weight, increasing energy, improving mental clarity and even relieving chronic health symptoms — you've got to focus on creating balance in life, rather than just a one quick-fix-solution.
You can comb through all the statistics and suggestions published around this time of year on how to stick to your resolutions, but the hard truth is, 92% of us will quit by February 1st.
That is, unless, you get that, "How you do anything is how you do everything."
How you manage any area of life, circumstance or experience, is very likely how you manage every area of life.
Balance Matters
If you're out of balance in one area, research shows your out of balance in other areas too.
Think about it, if you're stressed out at work, over-tired because you're not getting enough sleep, or just feeling defeated because you can never stick to your goals to get the results you most want, do you think you'll stick to your resolution to eat healthy when you feel overtired after work?
Do you think you'll stick with getting to the gym, like you've said you would many times over, if stress rules your relationships or troubles with finances distracts you?
As a new client said to me, "I'm "successful" in all ways that say I'm successful, but I'm overweight. I'm addicted to food, I'm stressed out and I'm working myself to death. This does not feel successful, it feels crazy."
The impact of the continual trying and the continual failing wreaks havoc on 'you' mentally and emotionally.
The National Institute of Health defines the impact of this recurring high and low cycle as a psychological condition. The question you want to ask is, how does this pattern impact you mentally and emotionally over the long haul?
To break through defeating patterns and an out-of-balance life, balance is your answer and The Wheel of Life is your starting assessment tool.
The Wheel of Life
Last week you clarified your goals for 2018. This week you'll use The Wheel of Life, a useful tool I use with all my private clients, to make sure that your goals support results and balance.
The Wheel of life shows where you're thriving in life, and where you need to extend more attention and effort, in an aerial overview kind of way, which is often amiss for many in the goal setting process.
In this assessment exercise, you want to make sure your wheel, the whole of your life is in balance, because you know what happens when you feel out of balance, right? Commitments break. Goals get shelved. Defeat resumes.
Look at each area of The Wheel, like health and finances, career and health, as "spokes," of a wheel, to tighten up your goals in ways that promote the results you want, but in a smart and balanced way.
I've created a FREE worksheet to help guide you in doing the Wheel of Life exercise. Just click below for an instant download.
Download Your Free Wheel of Life Exercise!
I recommend blocking 15-30 minutes to do this exercise today, to weigh in on the goals you set last week, and how what you discover in this exercise can help you smartly edit them!
If you know you're caught up in the world of doing, doing, doing, and reacting to life, rather than creating the forward momentum and results you most want, add the Wheel of Life to your New Year's resolutions and goal setting this year… It will help you identify where you're at now, and what you need to do, to get what you most want for you life, in a healthy and balanced way.