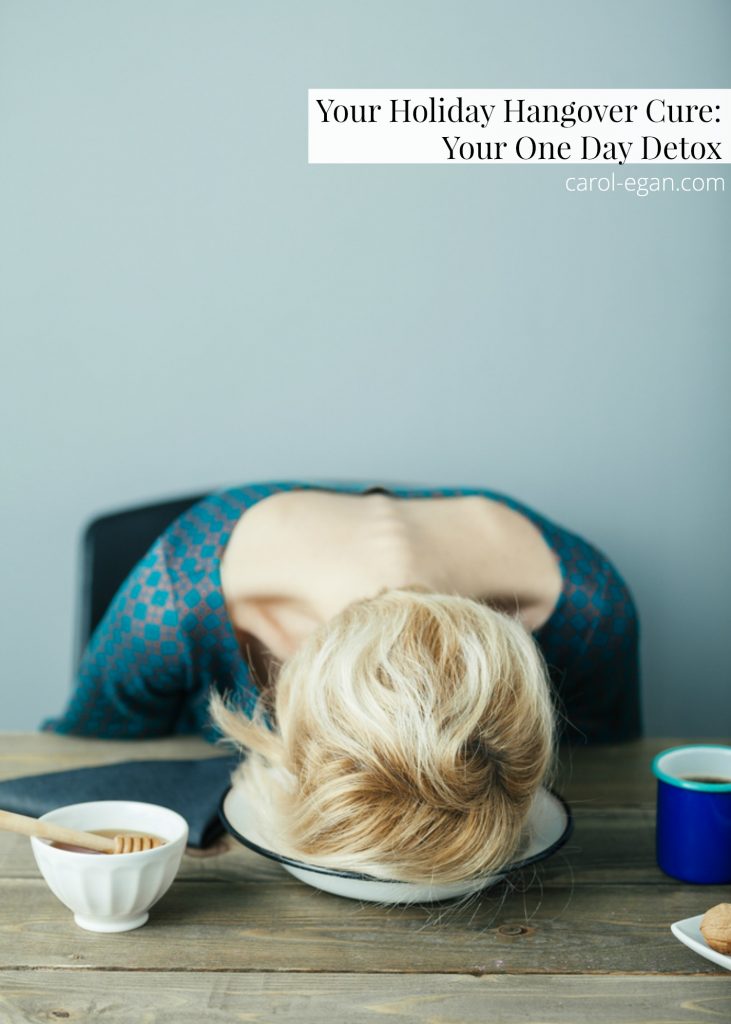 I get high from working with clients who come ready to play full out, clients who take on the coaching, clients who ask how they can turn on the intensity of our work together, because they want to blow the lid off the original health goals.
Really, I find nothing near as fulfilling as creating a health plan with my clients, adding in structures that support and grow that plan, and then watch them exceed the results they came to achieve.
But even some of these very committed clients have called me this past week and said, "What can I do to clean up my diet after the holidays? I ate foods I never eat and now feel bloated, inflamed, exhausted and cravings are out of control!"
I totally get it. I slipped off track too. My family was in town, and rather than being an example of eating super clean and healthy,
I too ate foods I never eat.
But the best thing about falling off the clean eating track is getting back on.
This is my sweet spot.
Getting back on track is something I've mastered.
Here's what I do, and what I recommend my clients do. It's called,
Your Holiday Hangover Cure: Your One (or more) Day Detox
Remove. Fast. Add-in. Eliminate. Restore.
Remove the top 5 common toxic trigger foods. All of them. For one day, three days, a week, or a month. The top 5 are, gluten, dairy, sugar, caffeine and alcohol. The goal is not deprivation. The mindset is not deprivation. The goal is to literally stop feeding imbalance in the body, which manifests as bloating, constipation, cravings, excess weight, allergies and more. The mindset is you get to choose. Super simple.


---

Fast. Intermittent Fasting, that is. Do not eat any food for 12 – 16 hours. Sound hard? Think again. Simply do not eat after dinner, and then wait until noon the next day = you'll be sleeping during most of these hours. During this time, drink only water. Research shows that intermittent fasting offers many health benefits like, weight loss, increased energy, disease prevention, improved metabolic health and even longevity, so it's a super great practice to experiment with. For the short term goal here, intermittent fasting will help you increase your detoxification and rejuvenation processes.


---

Add-in. Green juice, green smoothies and a green salad everyday. If you have a juicer, green juice is my first recommendation because juice is literally like an IV infusion of vitamins and minerals. If you don't have a juicer, make green smoothies. (Note this.)Drink 16 – 32 ounces of low-fruit, high vegetable green juice (or smoothies) everyday. Eat a meal-sized green salad everyday.Why green? Chlorophyll, the green pigment in all green plants, is the closest in chemical structure to human hemoglobin, with the only difference the center atom. Chlorophyll has magnesium as it's center atom. Hemoglobin has iron. Green supports overall health, reduces inflammation, helps detoxification, balances hormones and promotes digestive health. Here's a new juice recipe, and another. Get several smoothies here, and here is one of my favorite salads! Need something more substantial? Try this soup recipe, but keep in mind, the lighter you keep your meals, the quicker you will create inner balance again.


---

Eliminate. Get a colonic or do a home enema. This recommendation transforms a clean eating protocol into a bonafide detox and is the most overlooked recommendation in the detoxification world. To detoxify means to literally remove toxic substances, but no one talks about healthy elimination? Why?Think about it, if you have a bag of trash sitting around for days, what do you think begins to happen inside that bag if you don't empty it? The refuse begins to rot. When refuse begins to rot, yeast, mold, fungus and pathogen begin to grow. This IS what is happening inside the body as well if you are not eliminating healthfully.Schedule a colonic with a qualified hydro-colonic therapist in your area, and/or do a home enema yourself. Simply get an enema kit at your local drugstore and follow these directions:

Fill the bag with warm water (run water to the tip of the enema hose, to remove any air pockets).
Hang the bag roughly 3 feet above your head.
Lie down on a clean towel, for comfort. (option: prop your bottom up on a rolled up towel to support a healthy fill of water into your colon).
Play some music, light a candle, turn off the phone off and relax.

Restore. Stress during the holiday season (all the time really) is a leading cause of digestive imbalance. An ideal healing protocol must include daily practices that reduce stress and overwhelm. My research shows over and over, that we maintain healthy lifestyle habits when we maintain healthy lifestyle practices everyday. Here are a few suggestions:

Deep breathing
Yoga
Walking and Hiking outdoors
Sit down to eat and chew mindfully without any distractions
Be present
Be grateful for all you have
Here's your outline:
Upon waking, drink a Morning Elxir
Get a colonic or do a home enema
Drink water until noon (64 ounces)
Drink 16-32 ounces of green juice to break your fast.
Now your outline options:
Eat a meal-sized green salad for lunch, or
Continue with liquids, like green juice or green smoothies throughout the day, and
Eat a salad for dinner.
Include, berries, grapefruits or green apples for snacks if needed.
If you feel you need animal protein, eat raw goat-cheese or a light piece of fish.
Now turn on your commitment.
I know, you might say "I can't remove these favorite foods. I can't fast… " But this one day detox, or anything else you might want to do only needs you to commit, to one day, or… one day at a time. Nothing more, nothing less.
So how do you commit in the face of thoughts that stop you?
Change your thoughts from I can't, to I can. It really is that simple. 
Now tell me:
What is one thing you can do today to cure your holiday hangover?
What is one thing you can add in to challenge yourself beyond what you think is possible?
I can't wait to hear about all the healthy success you create from these recommendations!
And… if you know you'd like more support for 2017, check out my new 1:1 program offering, More Energy Now here.