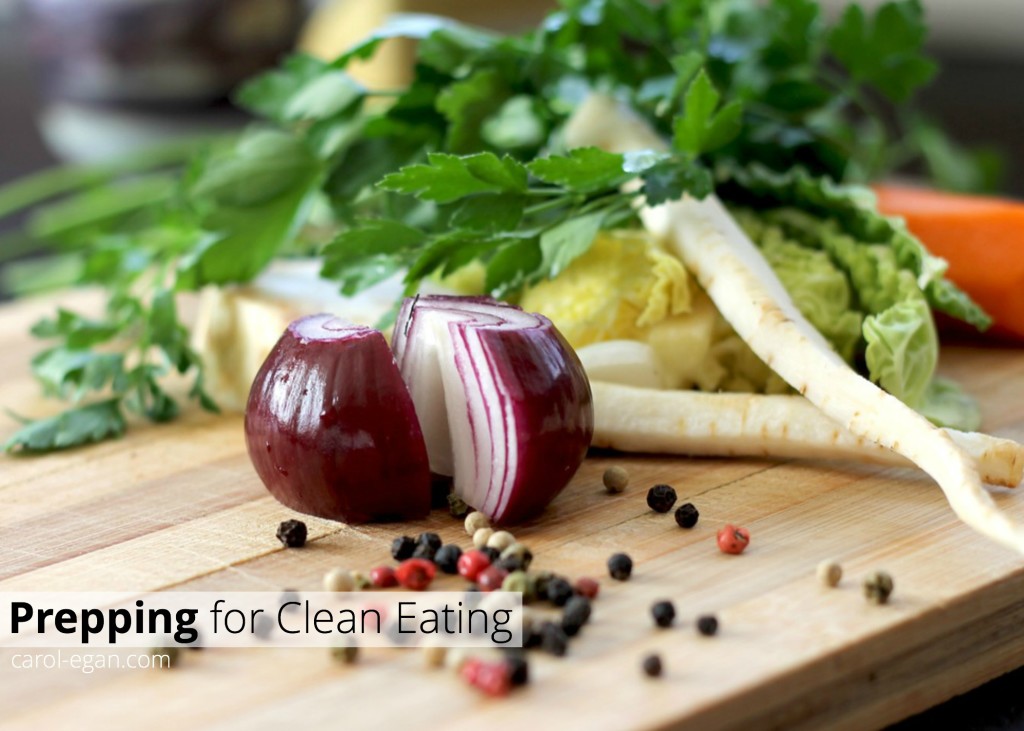 With clients, and at events, I always say, "it is not about food." What I do as a health coach is not simply about what you eat, it is not simply about food. What I do as a health coach is I support you in living your life fully. We are biochemical machines. Our mind, our body and our Spirit run efficiently, IF given the proper fuel needed, IF given nutrient dense foods laden with vitamins, minerals, phytonutrients, anti-oxidants, enzymes and all the cofactors provided by whole food sources. So while what I do as a health coach is not simply about food, it is our starting point. When you "crowd out" toxic foods by adding in nutrient dense, whole food choices, you turn your body on at the cellular level. You will immediately notice a boost in your energy level, your mood, and how amazing it feels to be in your own body!
Planning and preparation are essential to eating clean. Choose two days per week to plan ahead for your week. IF you have healthy food choices prepped and ready to go, clean eating makes healthy, vibrant living possible! Organize your ideas. Choose foods and recipes you love, but always incorporate simple go-to's with more creative, fun recipes that you think or know you'll enjoy… and that you know will satiate you. But before you head off to the grocery store, make a list of all the ingredients and items you'll need.  Creating a list before you get to the store will insure that you buy all the ingredients you need for the meals and snacks you selected to make. When you get home at the end of a long day at work, or you are packing your lunch ingredients up for the day, won't it be so wonderful that you have things prepped and ready to go?
Preparation is the key to success in everything we do, so I set aside time to prep for clean eating on Sundays and Wednesdays. I wash, cut, and get
ready to go all the ingredients I need, so I can literally create most anything in just minutes. Taking 2 days per week for prepping healthy, clean eating meals ahead not only saves us time when we are tired at the end of the day, or are dashing off early in the morning, it too will reduce stress associated with the "not enough time syndrome" many of us experience with our very full schedules. By setting aside a few hours a week to prepare healthy, clean meals and snacks we set ourselves up for success in so many ways.
Wash, cut and bag fresh fruits and vegetables. I prep fruits like pineapples, mangoes, melons and even grapefruits for smoothies, juices and even salads, since they require more time to prep than let's say an apple or a banana. I too de-stem strawberries for quick access.  I  wash and prep  spinach, kale, salad greens, celery, carrots, peppers, sprouts and even skin my lemons for my salads and juices, so that I can whip-up a quick juice or salad in a snap too!  And I even bag or "Mason-Jar" my salad the night before for the next day!
Complex carbs. Pseuodo-grains. I always prep quinoa ahead, for quick, ready to go use, to scoop on my salad, make a breakfast cereal, or even add to a veggie sauté. I love to prepare chia puddings and bake sweet potatoes ahead too for another breakfast choice, a snack, or even top the sweet potato with broccoli for a perfectly light, complete dinner. Oh, did I say that the smaller size Mason Jars are perfect for chia-seed puddings on the go to?
Carving out time to spend in the kitchen might seem like yet another task to do, but I assure you, setting aside just two days to make preparations for the rest of your week will offer you both healthy food choices as well as reduce any stress equated to preparing meals last minute. It really becomes a win-win. Your health and energy soar. Your weight stabilizes. Your skin glows. Your stress diminishes. Kind of a "no brainer," if you ask me!
Happy Prepping for clean eating!