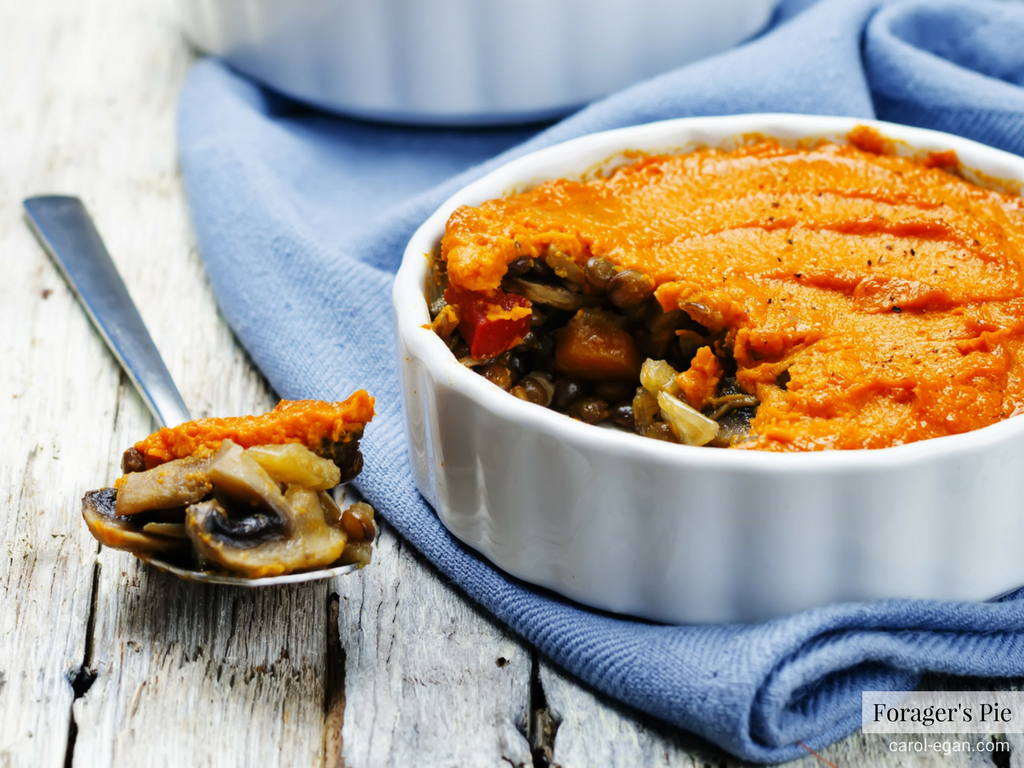 Forager's Pie is said to be the "hot cousin" of Shepard's pie. I like that, in the spirt of 'out with the old, in with the new.' This recipe then is, yet again, a fresh spin on another classic, with a lighter, cleaner line-up of ingredients!
The idea of foraging conjures up hunting and gathering — I love this idea of spending hours hunting for the perfect mushrooms in the 'wild,' but that I don't know much about which ones are safe, and which ones aren't, I went to Whole Foods and filled a bag with shiitakes and baby portobellos!
The mushrooms, with the marsala wine and fresh thyme and rosemary, add a rich savoriness that says Fall through and through.
You'll love this recipe! It's so good, that a crust would only get in the way!
Ingredients
1 large Vidalia onion, diced
4 cloves garlic, minced
5 carrots, peeled and diced
2 pounds shiitake mushrooms (or personal favorite), cleaned and sliced
2 pounds sweet potato (2 medium sized, 1 extra large), pureed
3/4 cup marsala wine
1 1/2 cup Kite Hill, ricotta cheese
2 Tablespoons coconut oil
1/2 teaspoon fresh thyme, minced
1/2 teaspoon fresh rosemary, minced
1/2 cup, fresh parsley, minced
1 cup almond milk
sea salt and cracked black pepper to taste
Preparation
Puree sweet potatoes in food processor, with 3/4 cup of ricotta, sea salt and black pepper until creamy and well-combined. Set aside.
Saute onion, garlic, carrots, coconut oil, sea salt and cracked black pepper on medium-low, until translucent. Add marsala wine and simmer for 5 minutes. Add mushrooms, fresh thyme and rosemary, and simmer until tender. Add almond milk and 3/4 cup ricotta — Stir until well-combined.
Scoop vegetable/mushroom sauté into a glass baking dish. Layer half the fresh parsley. Top with pureed sweet potato. Bake at 350° for 45 minutes. Top with remaining parsley and serve!
Buono Appetito! 
If you make this recipe, I'd LOVE to hear how you like it in the comments section below!