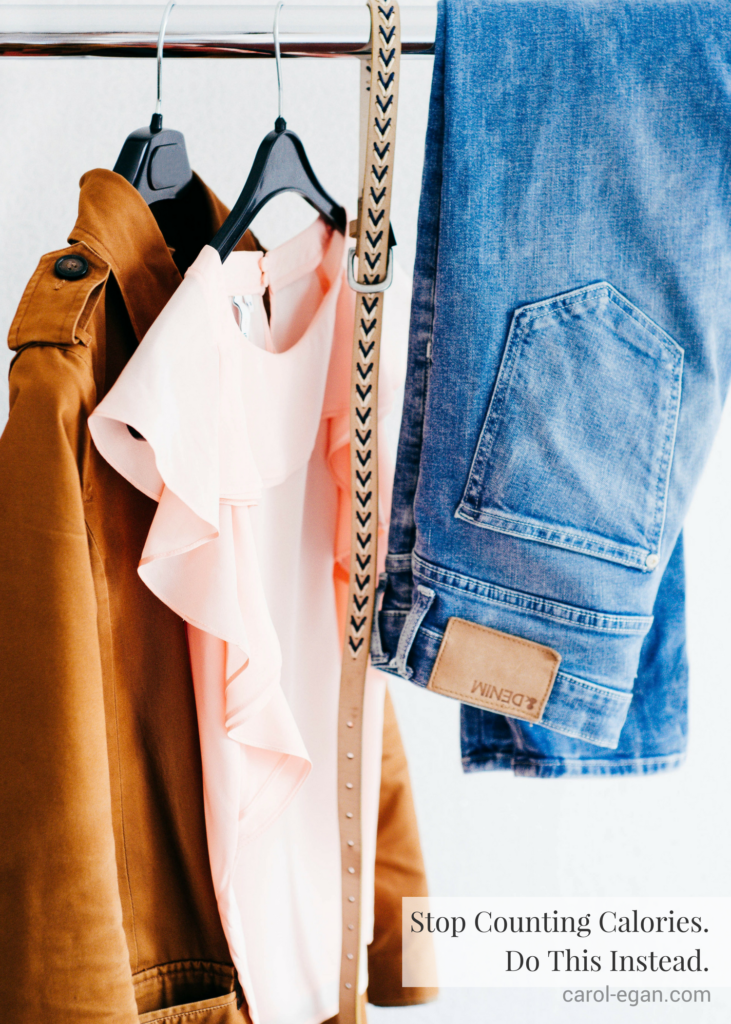 What are your health goals? Do you want to simply lose weight to slip into that favorite little black dress, or do you want to look and feel gorgeous and confident, emotionally balanced, mentally clear and in control of healthy habits everyday?
Do you want to simply burn excess fat so you look leaner, or do you want to turn back the hands of time in ways that the notch in your belt, the texture of your skin, the clarity of your mind and the contours of your muscles bespeak the seemingly elusive Fountain of Youth's secrets?
Along the historical path to optimizing health and vitality, counting calories was introduced as "the" method to look and feel your best, even more than vital nutrition.
If you follow this protocol, yes, oh yes, you will lose weight, simply because the counting-calorie philosophy recommends you reduce the amount of food you eat everyday.
But the downside is, calorie-reduction programs across-the-board allow you to eat whatever you want, as long as you stay within the caloric-range recommended for your weight… even if it is not necessarily a healthy choice. This is a huge appeal for many.
You can eat chocolate cake. You can eat pizza. You can eat doughnuts, as long you don't exceed your caloric-intake for the day.
Now add in the fitness-trainers who tell you you can eat whatever you want, if you "burn more calories" in their classes, and you're going to end up at the bottom of the rabbit-hole in unhealthy-land chasing calories, while consuming foods that keep you in a state of cravings, imbalance and poor health.
The most important thing that the calorie-restriction diet companies, like Weight Watchers, Jenny Craig and Nutri-Systems is missing is, calories have NOTHING to do with the state of your health.
Think about it, HOW can nutrient-devoid foods that the body can't eliminate, like chocolate cake, pizza and doughnuts, promote the vitality and energy you need to look and feel your best when your body is incapable of healthfully eliminating them, and all the problems that causes?
Counting calories is a joke, if your goal is more than just weight loss, if your goal is to look and feel radiant, inside and out! 
Want to slip into that little black dress, buy a new wardrobe full of clothes you love, or simply look and feel as gloriously healthy as you are successful?
Stop counting calories. Stop listening to those who tell you to count calories as a viable approach to looking and feeling your best, and start counting the ways you bring oxygen into your body.
Start by eating foods high in oxygen.
Oxygen is the primary nutrition you need, it's your lifeline.
Foods highest in oxygen were just picked, so they carry the highest amount of "life force energy," because they were just picked.
Plus, foods like raw fruits and vegetables are low in calories, so there's the release-excess-weight appeal, and they'll deliver the maximum levels of oxygen and electricity your body needs for more energy, more vitality, more mental strength and clarity, more focus and feelings of creativity, more glowing skin… and less stress, less accumulated waste and less chronic symptoms.
Do you know that diseases like cancer, autoimmunity and heart-disease thrive in a low-oxygenated environment?
Yes, a body deprived of oxygen becomes dirty, obstructed and toxic. And the crux of this matter, that is politely not talked about nearly enough is, yeast, mold, fungus and bacteria thrive and grow on the stagnant waste, inside the body. Hello common, acute and chronic symptoms.
So how on earth can a calorie-reduction program, that includes, chocolate cake, pizza and doughnuts, all that process like sugar in the body, choices that offer zero nutritional value, not be considered a joke?
Sugar causes imbalance in the body, which leads to chronic disease, because it feeds the growth of unfriendly pathogen (on stagnant waste matter in the body), which is hardly the foundation for optimal health and vitality.
Stop counting calories. It's like shooting yourself in the foot. Instead, count all the ways you can bring oxygen into your body, to look and feel every bit as healthy as you are successful!
Your Turn
Have you tried calorie-reduction programs? Had success, but fell back off?
Does removing foods like chocolate cake, pizza and doughnuts make sense to you?
Post your take on this blog in the comments below. I'd love to hear your take on this post.
Do you struggle with staying in the get-healthy game? Download Eliminate Excuses today. It will help. It's an awesome mini-program that will help you deal with the endless reasons and excuses that typically get in the way!